BOKSLÄPP – Crime and Safety in the Rural: Lessons from Research – 11 November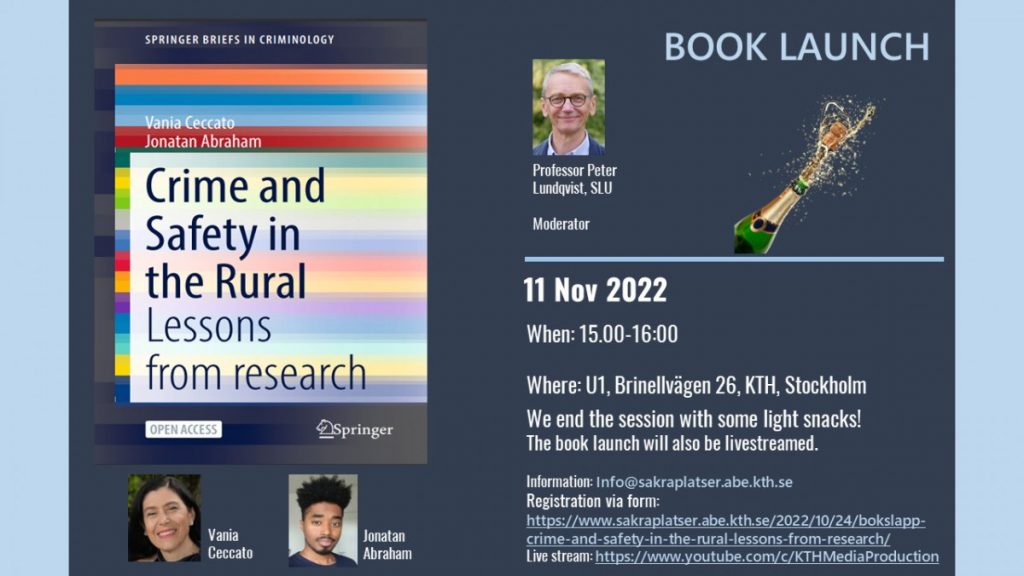 SAVE THE DATE 
(Attendance upon Registration)
Friday, November 11 at 15.00-16.00 the book "Crime and Safety in the Rural: Lessons from Research" written by Vania Ceccato and Jonatan Abraham is launched.
The book launch is organized by the Säkraplatser network, Royal University of Technology and takes place at U1, Brinellvägen 26. The also webinar will  be streamed. During the webinar, the book will be presented and there will be an opportunity to ask questions to the authors of the book.
Warm welcome!
The book serves as a quick introduction to an important but often neglected field: rural criminology. It summarizes a range of issues related to crime and safety in rural areas, including their implications for rural development at large and the UN sustainable development goals.  
 Topics covered among many others:
Crime trends and patterns in rural/semi-rural areas, including typical rural crime such as e.g., farm crime and environmental & wildlife crime.

Rural policing and crime prevention

Safety perceptions of rural inhabitants of various backgrounds, e.g., women and LGBTQ+. 
The book is especially suitable as a quick introduction to the topic of rural crime and community safety for students, especially those of criminology, geography and rural studies.
Attendance upon registration via the following form or via Zoom